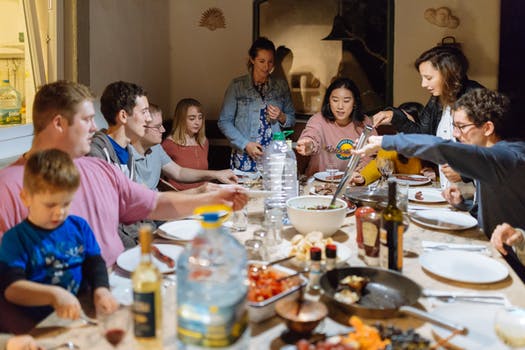 With the holidays careening toward us, it's hard NOT to think about the days and weeks ahead. So much magic and tradition packed into roughly 6 weeks. And so much pressure. We don't want to add to that pressure, but we do encourage you to spend a few minutes thinking  about your family traditions before the season rushes in. For children, the holidays serve as a cornerstone of faith formation. These annual events provide stability, magic, community, and memories, and they are the "keys" to unlocking your values and passing them to the next generation.
What are your "annual" traditions at Christmas? Share with your children why your family does what they do– and how the tradition began. If your family doesn't have a history of tradition, it can start with you. (For example, my family reads the Christmas story each Christmas Eve, followed by the opening of ONE present. Even my grown up kids anticipate this tradition.)
Pausing to create traditions makes the inevitable ups and downs of family life more manageable. Children feel safe when they know what to expect. The holidays deepen their ties to family, community, and church. Take just a few minutes BEFORE the holidays to think about how to link God's story with your family's story. Think about what you already do to celebrate Thanksgiving and Christmas, and then "tweak" them from a faith perspective. Find ways to practice gratitude during Thanksgiving, or develop a ritual of lighting an advent wreath and saying a prayer in the weeks leading up to Christmas. Our website offers suggestions for family devotions and prayer, serving together during the holidays, chatting by the Christmas tree, and enriching your traditions.  
Blessings for peaceful, spirit-filled holidays!