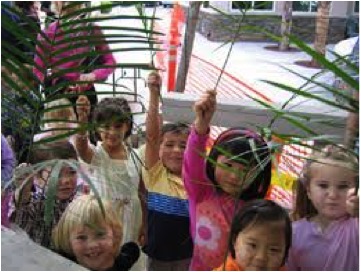 01 Apr

An Easter "Primer" for Parents
For parents, the weeks preceding Christmas provide multiple opportunities to celebrate the birth of Christ in ways that appeal to children, and are easily understood. Children learn by "finding themselves in the story," and who can't identify with some part of the Gospel accounts depicting a young couple, angels with good news, adorable sheep, a long trip by donkey, surprised Shepherds, Kings, presents, and a precious baby born to save the world. Christmas provides a feast for the senses, and is often the first place children find their identity in Christ and begin to claim His story as their own. For parents, Christmas is a very "easy" place to weave God into the narrative of their family traditions.
The weeks preceding Easter admittedly require more thought for parents as they discern how to help children understand 1) that Jesus "dies" approximately four months after he was born, and 2) why does He even HAVE to die to save us? (Even many adults grapple with that one….)
And bunnies and eggs and starburst jelly beans and marshmallow chicks are nowhere to be found in any Gospel translation I've ever encountered, which I think ends up clouding their understanding of this foundational event. (But don't get me wrong, I have nothing against chocolate bunnies, eggs, and prefer Reese's to Cadbury.)
I think the best approach for parents is to first of all, ask the "Author" of the story for guidance on how to speak with their children about the death and resurrection of His Son. Allow time for the Holy Spirit to give you the words to help them understand the radical love God has for them.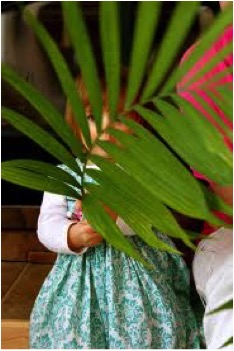 The events of Jesus' death are shocking and violent, but we cannot fully live into Easter if we have not experienced Christ's death.
We can offer some guidance as you experience the next week with your children:
Children – even very young ones – know that bad things happen. The Easter message is that good always triumphs over evil – even if it doesn't seem to at the moment. This is a message children can hear and understand.
When you talk about the crucifixion, always follow up with the Resurrection. The following language can be helpful: "Jesus loved people so much that some people were scared by it and they put Jesus to death on a cross. But love is so strong, that not even death can destroy it, so God raised Jesus from the dead."
Some children are curious about how crucifixion actually kills. You do not need to dwell on the gore, but an honest answer that is short and to the point is helpful to children and allows you to move on to the resurrection.
Other children worry that Jesus was alone. He wasn't – his mother and the Beloved Disciple were there, along with other women. Two other men were crucified with him. And most importantly, God was with Jesus.
Experiencing the events of Holy Week and Easter can be a powerful way for children to share in the defining action of our Christian faith while being held in a safe and familiar environment. The events of Holy Week are the perfect places for embodied learning – we shout and parade with Jesus on Palm Sunday, taste bread and wine, and raise the joyous "Alleluias" on Easter Day. With careful planning, parents can help children experience the mystery and wonder of both Holy Week and Easter.
Below are some activities that you can do with your children to more fully experience and understand the events of Holy week as a family. PLEASE don't feel like you have to do all of these…but try to weave one or two of them through your week! (And enoy this time with your children!)
Palm Sunday: Set the tone for the week by reading (in a children's bible) the accounts of Jesus journeying to Jerusalem. Read about the Palm Parade, and how he rode in on a donkey. Compare this journey to the trip His parents made 33 years before. Ask them questions about what they've learned in activity time, and talk about your favorite "parts" of the Easter story.
SEEDS! Seeds offer a clear message to children of the power of new life. Rest eggshell halves filled with soil in an egg carton. Plant a marigold, petunia, or grapefruit seed in each (or even grass seed for faster results).  Place in a sunny window. As they sprout and begin to grow, talk about how our faith grows in a similar way: we need good soil (prepared hearts), light (of Christ), water (of baptism), and time to grow at our own pace.
Maundy Thursday: Read about the Passover, again using either a Children's Bible or at least one that is age appropriate. Each year more Christians are drawn to celebrate Passover, the feast commemorating the departure of the Israelites from slavery (Exodus 12).  Jesus had come to Jerusalem to celebrate and was actually crucified on Passover Day.  He is the fulfillment of this tradition, as our own Passover Lamb. You can even go further by connecting the New Testament Passover accounts to the Old Testament Passover accounts in Exodus.
Good Friday: Observe Jesus' crucifixion by reading the Biblical account together. Listen to old hymns of the Crucifixion and the Cross: "Were You There When They Crucified My Lord?" "The Old Rugged Cross," "When I Survey the Wondrous Cross." Follow up your reading with some joy, making Hot Cross Buns.
Easter Sunday: Greet each other with "Alleluia, the Lord is risen!" and answer, "He is risen indeed!" Gather your flowers to bring to church to place on the "Flower Cross" Read the Resurrection accounts in the Bible together, and enjoy the celebration that He Lives!
Easter Blessings,
Jenny Cudahy
Director of Family Ministry and Communications
Click Here to read more about weaving faith into your family's rituals and traditions.