Sunday Morning Prayer convenes at 9:30 a.m. each week to pray for the day's service as well as concerns from the congregation, our neighborhood and the world. No need to sign up, just come. You won't be asked or expected to "pray out loud" unless you feel led, and it's perfectly fine to participate silently. God hears all of our prayers, spoken and unspoken.
Sermon Talk Back meets every Sunday after coffee time, from 11:30-12:00 to delve more deeply into the day's Scripture and sermon with a focus on personal application. This 30-minute forum offers an open, give-and-take discussion where questions and doubts are welcomed and honesty is valued. This is the place where we can admit that we've struggled with certain parts of our faith walk, and where we also at times point out where we see God working in one another's lives. We have an open-door policy for "STB" as we call it, so just come up after you get a cup of coffee, if you can pull yourself away from the table at Coffee Hour. The struggle is real.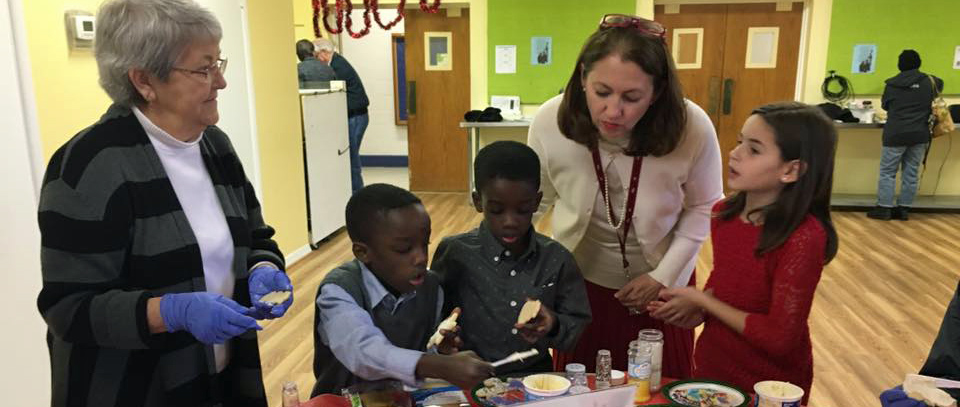 Sunday Coffee Hour: We don't mean to brag, okay a little, but we have been told that this is a strength (and a gift) of the Calvary community. Every week after worship, our  hospitality teams  lay a banquet for us to enjoy. Come downstairs after worship and get a cup of coffee, fruit, cake (chocolate), and amazing fare from our diverse community. All are welcome, and all means all. We bond better over cake, right?
Presbyterian Women meet monthly for Bible study and fellowship. Circle One meets the first Tuesday of every month at 1 p.m. The Hazel Circle meets the first Sunday of each month following fellowship time.  . Contact Barbara if you have any questions about Presbyterian Women.
The Not-So-Small Small Group:This is a new ministry to Calvary that is "taking off." This "not-so-small small group" meets monthly in one another's homes, while sharing a meal, hearing one another's stories, digging deeper into the Bible, and supporting one another as we strive to be Christ followers. Jane and John Kerr facilitate this group which reconvenes on Thursday, September 20, 2018. Download their Invitation to Discipleship (1) here.
Also new this fall is the addition of real faith stories from Calvary members and friends. Author John Herman writes that "Discipleship is not some content or information that is learned, as much as it is a way of life that is lived in a community of faith." This is our attempt to put our faith to words as we grow in Community together.