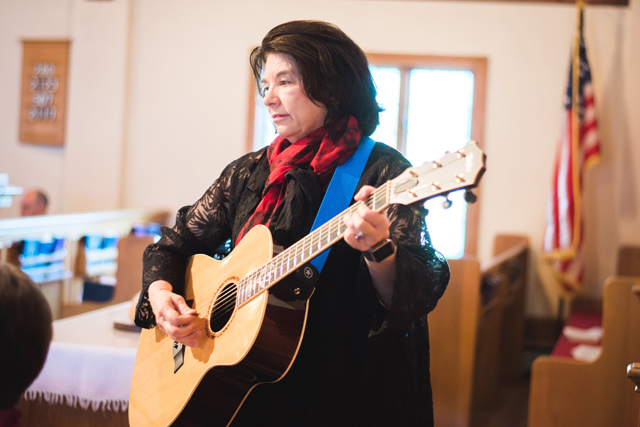 08 Jan

Calvary's Music Director: Judy Viccellio

Judy Viccellio is an accomplished musician with a BA in Voice and Composition. For over 30 years, Judy has been the Director of Music for numerous Air Force Chapels and churches. She brings a unique ability to blend music of many genres and traditions into a vibrant and meaningful worship experience.   Judy has a classical music background, plays guitar and piano, and is a published songwriter and singer. In addition to overseeing the choral and congregational worship music, Judy has started an instrumental ensemble in every church where she has been the music director. Under her leadership, the music program has grown in attendance, excellence, and diversity.   Judy attributes much of her passion for music to her mother who was an outstanding musician, singer, and award-winning choral director for Air Force chapels around the world, and her father, who was an Air Force chaplain.

When did you come to Calvary?

I came to Calvary in the summer of 2012.  

What do you want people to know about Calvary?

I love the diversity of our congregation, and how it shines in so many different expressions of music, ministry, and outreach.  I love the way people bring an open heart and mind to welcome the presence and the movement of God.  I love the sense of expectation, and the way we are growing and changing.  I am truly amazed at the talent and skill of the musicians God has given us. This allows us to do almost anything musically—classical, traditional, folk, ethnic, orchestral, and even bluegrass.  What a joy it is for me to help plan creative services with others who are so generous with their musical gifts.  

Favorite Food?

My favorite food – wait for it — is waffles, and vanilla BEAN ice cream, but not necessarily together!   After years of eating in some of the best restaurants in the region, and learning how to cook like a chef, I still go back to non-sophisticated waffles and ice cream.  Running a close 3rd place is peach cobbler.  And that's why I will always need a gym membership…

And the big one: Toilet paper – over or under?

Seriously…..Toilet Paper OVER.