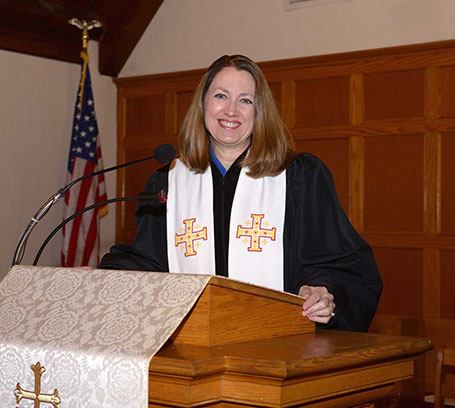 08 Jan

Pastor Michelle Fincher Bio

In July 2012, Rev. M. Michelle Fincher was called to be the 8th pastor of Calvary Presbyterian Church. Rev. Fincher is a native of Arkansas and attended Baylor University in Waco, Texas where she was awarded a Bachelor of Business Administration in Accounting. Her career as a Certified Public Accountant was short-lived, however. After two years in the field, she left to pursue the call of ministry. That call led her over a number of years to serve as a Conference Coordinator for the Family Ministry of Campus Crusade for Christ, as Director of Music for a military installation chapel, and as Director of Small Group Ministries for Fairfax Presbyterian Church in Fairfax, Virginia. In 2004 Rev. Fincher graduated from Virginia Theological Seminary in Alexandria, Virginia. She served as a hospice chaplain and as the Interim Associate Pastor for Centreville Presbyterian Church in Centreville, Virginia before coming to Calvary.

Rev. Fincher brings warmth, energy, humor and a deep love for God to Calvary. In a recent letter to the congregation, Pastor Michelle shared these core convictions: "I believe that God is present at all times, in all places, in every situation, in every person. That compels me to be actively looking for what God is doing, how God is moving and the ways in which God is speaking. I believe in the power of God's grace to change lives, utterly and completely. I believe it makes a difference that we worship each Sunday morning in Spirit and in truth and that we pray, sing, confess, proclaim and praise from our hearts. I believe it is critical that we know—and more importantly, live—the difference between 'coming to church' and 'being the church.' And, I believe that joy is our birthright, not because everything always goes our way, but because our hope is in Christ."

Michelle is an avid (and loud) supporter of the Arkansas Razorbacks and the Washington Nationals.  She is a voracious reader of theology, leadership books, and Architectural Digest.  She believes dark chocolate deserves its own food group.  For Michelle, nothing is more fun, meaningful or compelling than encouraging people of all ages along their own spiritual journeys.  She is "Mom" to two young adults, with a daughter who is a Physical Therapist and a son who is a recent graduate of Virginia Tech. 

When did you come to Calvary?

I was installed at Calvary in July of 2012.

What do you love about Calvary?

I love Calvary's passion for people and worship.  I love our hospitality.  I love our diversity.  I love that children feel at home here.  I love that people sense God's Spirit actively moving in our hearts and lives.

I originally hail from the land of the Razorbacks, arriving in Northern Viginia via Baylor University in Waco, Texas; Little Rock, Arkansas; Sacramento, California; Denver, Colorado; Montgomery, Alabama;  Mildenhall, England; Springfield, Virginia; Rapid City, South Dakota; and finally, back to Fairfax in 2000.  My claims to fame are: expertise in packing, unpacking, and organizing that defies all laws of physics; dispensing life-changing advice for squirrel-haters; and elevating dark chocolate to its own USDA-approved food group.   In addition, I am completely addicted to The Crown, am "Mom" to two smart and funny twenty-something year olds, am an avid Washington Nationals fan, and believe theology is the best bedtime reading ever.

What's your favorite food?  duh.  Please see above.

Toilet paper: over or under?  OVER, OVER, OVER, OVER.  Please do not make me say this again.