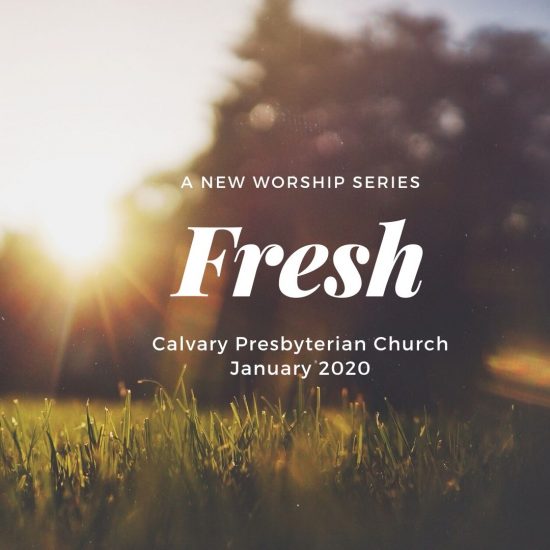 08 Jan

A Fresh Start
A Fresh Start
Mark 1:16-20 and 10:17-22
January 5, 2020
Michelle Fincher
Calvary Presbyterian Church
This morning we begin a new sermon series entitled Fresh which seems a particularly apt series to begin at the start of a new year.  The end of the year is typically a time when we look back and reflect on what happened during the previous twelve months—the good things, the blessings, the moments celebrated.  There are usually some "lessons learned" as well, some difficulties or struggles, perhaps some things we'd like a "do-over" on.  
Then the calendar turns to January and we start looking ahead.  Some of us make New Year's resolutions which is why gyms are always crowded in January.  We make plans for the coming months. We look forward to a fresh start. In this new series, Fresh, that's what we're going to be talking about.
The Gospel of Mark records the story of Jesus calling his first disciples which included two pairs of brothers, Peter and Andrew and James and John, who were fishermen.  In their day and age, fishermen were not very highly esteemed in terms of the social totem pole. It was a decent enough job, but there were better things to do. For one thing, most Jewish boys got an early education.  They would all go a few years, maybe the equivalent of 2nd or 3rd grade, at which point only the best students were allowed to move on while all the other boys were sent home to learn a trade.  Of the boys who continued in school, there would be another culling process a few years later, until by the age of 13, only the best and brightest were left.  The rabbis would then select which boys they personally wanted to teach.
What that means is that somewhere along the way, Peter, Andrew, James and John hadn't made the cut.  They weren't good enough. They'd been turned down, rejected, sent home. You have to wonder how that early rejection impacted them, whether they thought about it through the years, out on the water, late at night, hauling in fish.  Did any of them long for a do-over, another chance, an opportunity for a fresh start.
And then along comes a young rabbi named Jesus.  And he calls them by name. He chooses them, the ones the other rabbis rejected.  Imagine what kind of power that had. Imagine how excited they must have been to be given a second chance, a fresh start.
Contrast these four fishermen with what Mark says about the rich young ruler.  This is a guy who has it all. He is rich. He has all kinds of possessions, no shortage of money, privilege aplenty.  He has been chosen, his name called throughout his entire life. And yet, he is not satisfied. He is searching for some-thing that is missing, for something bigger than himself, for something eternal.  And so, he comes to Jesus.
Jesus gives the young man a quick rundown of the Ten Commandments.  The man seems to be a moral person with a spotless record. Then Jesus tells him to get rid of all the stuff that doesn't satisfy him.  Do this one thing, he says, and you will have a fresh start.
These stories present two very different sides of the social scale.  One is a story of the rejected; one, a story of the unsatisfied. Both situations offered the possibility of starting over.  The people in both situations needed and wanted a new beginning. And in both, there was one thing that was necessary to get the fresh start they desired.
We're only a few days into 2020.  All that happened last year is in the past.  Whether it was good or bad, it can't be changed now.  What is open to us is the future. As we stand at the dawn of a new year, we've got the chance for a fresh start, and like Peter, Andrew, James, John and the rich young ruler, the most important aspect of getting a fresh start is letting go of the past in order to follow Jesus.
Notice that Jesus' invitation to follow him does not come to everybody in the same way.  To the fishermen Jesus said, "Follow me, and I will make you fishers of people." To the rich young ruler, he said, "Go, sell what you own, and give the money to the poor, and you will have treasure in heaven; then come, follow me."  Both were invitations to begin anew, to have a fresh start by following Jesus.  
These two stories have very different endings.  Peter, Andrew, James and John left their fishing boats, followed Jesus, and their lives were never the same.  They saw things no one had ever seen. They got to do things and be part of things that no one else had ever experienced.  They changed the world. And it all started with following Jesus.
The rich young ruler walked away.  Instead of leaving behind his former, unsatisfying life, he left behind the only person who actually could change his life and give him what he most deeply desired.  Instead, he settled for the life he had, and in doing so, he gave up the opportunity for a fresh start.
This morning we've already witnessed one powerful visual image of what a fresh start of following Jesus can look like as we ordained and installed a new class of elders.  Like the two pairs of fishing brothers, Dianne, Ann, and Travis said "yes" when the invitation to follow Jesus came to them. Their "yes" means they have accepted a new level of commitment and are taking on new responsibilities as they seek to follow Jesus.  You've just heard them pledge to pray for you and for the ministry of this church, and as a congregation, we have promised to pray for them. That's one way we all participate in discerning and following the will of God for Calvary.
We have the opportunity for a second powerful experience of following Christ as we come to the table this morning, a place where Jesus meets each one of us to nurture and feed us with his very life.  If you need a fresh start in some way or other, the Lord's Table is the perfect place to begin this new year.  
As we prepare for communion, there are some here who know that despite years or even decades in the church, you really haven't made it the priority of your life to follow Jesus.  You can say all the right words and check all the right boxes, but you've been walking your own path, following your own agenda, and truth be told, you've wanted Jesus to follow you, giving you his blessing but not asking much of you in return.  Today Jesus is inviting you to a fresh start.
Some here might be more like the rich young ruler.  You cling to the status, the possessions, the recognition this world promises.  You know it's ultimately an empty promise, that there's got to be more to life than this, but still, you haven't been able to let go.  Sometimes that's because of greed or pride, but I think more often, it's fear that keeps us clinging to the past and to the temporal when Jesus is offering us the eternal.
Are you ready for a fresh start?  Then I invite you to consider how Jesus is inviting you to follow him in a new or different way in 2020.
Thanks be to God.  Amen.