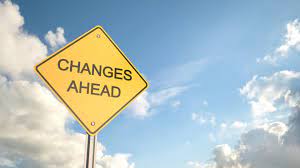 28 Dec

Another Goodbye…Another Staff Change

Dear Friends,

It is with both gratitude and sadness that we will be saying goodbye to David Maley on Sunday. David has served Calvary as pianist, accompanist, and Musician Extraordinaire for a decade. He arrived right after I did, and he has been nothing but a pure joy to work with. That David is a gifted musician is without question—he can play any style of music on multiple instruments. But more than that, he is a wonderful human being—creative, collaborative, kind, humorous, dependable, and compassionate. While David's absence will leave a huge hole, we cannot wish him anything but blessings and success as he leaves to accept a Director of Music position at a church in Manassas. This is a fantastic opportunity for him, the next step in his growth as a church music professional. I hope you'll make every effort to be present on New Year's Day as we share worship together with David at the piano one final time and send him off with our love and prayers.

In what can only be described as stating the obvious, we are in the midst of tremendous transition as 2022 comes to a close, with four changes in our staffing in the past month—Hannah, Gene, and David moving to new phases and places in their lives and the transition in the Office Manager position with Barbara's retirement. While all of these transitions are normal, part of the natural evolution of church life, they can certainly feel abnormal and disruptive. These are all people we know and love dearly, and we will miss them. There is a certain amount of grief that is part of this natural evolution, and we need to honor and make space for that. But please allow me to remind you that all of this takes place within the context of God's unwavering faithfulness to us. Though we cannot see it yet, there are redemptive purposes at work in these changes. Part of God's invitation to us is to pay attention, to be alert, discerning how God is leading us.

Given all the changes that are afoot, there has perhaps been no more significant Annual Congregational Meeting over the past decade than the one on February 12, immediately following worship. This meeting will give us an opportunity to do a "deep dive" together on all the changes we are experiencing—to talk honestly and openly about how we are feeling, what the implications are for the future, and what our hopes and dreams are as we begin looking toward the 75th Anniversary celebration on Sunday, May 7.

Speaking of the 75th, it is only four short months away (!) which means it is time for our planning to move into high gear. Please contact me if you are willing to help with any of these critical areas:
Communication/invitations
Food & hospitality
Updating Calvary's history from 2012-present
Media & technology
God is good all the time, and all the time, God is good. Let us embark on this New Year with trust in our good, loving, and faithful God.
Happy New Year!
Michelle