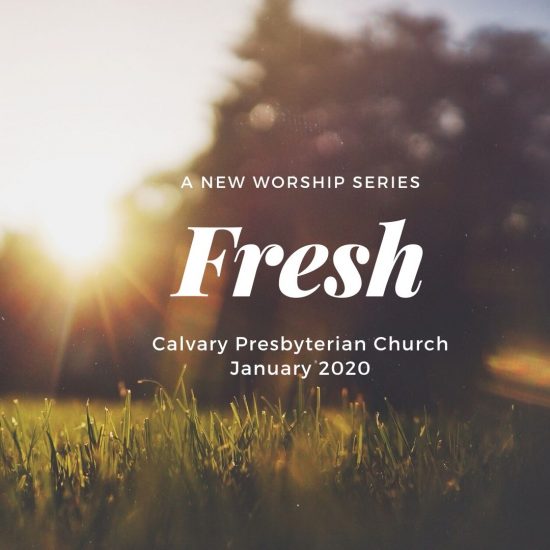 13 Jan

Fresh Worship
Fresh Worship
John 4:21-24 and Isaiah 1:1, 10-20
January 12, 2020
M. Michelle Fincher
Calvary Presbyterian Church
Last week we started a new sermon series called Fresh by focusing on how following Jesus offers us a fresh start.  Without Jesus, we're left with only our own strength and effort, and as we have all experienced, our own resources eventually fall short of producing real, lasting change.   If we want a fresh start that will endure, that requires transformation of our hearts, and transformation requires something, Someone, who is bigger than we are.  For a fresh start that lasts, following Jesus is essential.  
Building on last week, today we look at Fresh Worship.  One of the things that makes any discussion of worship so interesting is that worship is a highly personal and subjective topic.  What one person experiences as worshipful leaves someone else totally unmoved or worse, offended.  That's why at Calvary you will sometimes hear me talk about the 75% worship rule:  I want you to be about 75% happy with worship, because the 25% you don't especially care for is someone else's favorite part.  If we're all about 75% happy with what takes place in here each Sunday morning, then everybody has the opportunity to be spiritually fed in one way or another.
Beyond our own individual worship preferences, there is also the fact that worship is made up of so many different components—the music, the liturgy, the aesthetics, the balance of silence and sound, the scripture, and of course, the sermon.  
Everybody has an opinion about the sermon, what makes for a good sermon or a bad one, and to what degree it enhances or fails to enhance worship.  Just last month the Pew Research Center released the results of a study on sermons, calling their work "the most exhaustive attempt to date to catalogue and analyze American religious sermons."  Their research encompassed almost 50,000 sermons delivered in 6400 churches in April and May of last year.  They discovered that the median length of ministers' sermons is 37 minutes, with Catholic sermons being the shortest, at 14 minutes, compared with mainline Protestant sermons at 25 minutes.  The median time in Evangelical congregations is 39 minutes, while the longest sermons, at 54 minutes, are at historically African American Protestant churches.  See, you could have it so much worse! 
There is a danger in any discussion of worship to think about it solely from the human side—what we do, the impact we have, what we find worshipful.  The prophet Isaiah calls our attention to the reality that God has some thoughts about worship, too, and before we get too wrapped around the axle about any particular style or approach, it behooves us to consider worship from God's perspective.
The word 'worship' comes from an old English word "weordhscipe" which literally means "worth-ship."  It refers to giving worth or value to something or someone.  So, worshiping God means that we ascribe worth and value to God, which is to say, true worship always reflects on the significance, the beauty, and the character of God.
Jesus says that we are to worship God "in spirit and in truth" (John 4:24) which gets us to the crux of worship:  that it is not primarily about the 'how' or 'what' or style but about the condition of our hearts.  When Jesus says we are to worship in spirit, he is referring to our true, inner self, the self we are when all the masks and pretending are stripped away, when we stand fully exposed.  Jesus' words invite us to examine ourselves with complete honesty:  in the very deepest recesses of your heart, are you in awe of God?   Is your worship genuine, a true expression of how you actually feel about God?   Do you mean the words you sing and pray?  Are you going through the motions or is your worship a profession and confession of what is most precious to you?
Jesus also says we are to worship 'in truth.'  That means we don't worship God the way we want God to be.  We worship God as God is revealed to us, for who God truly is.  God is revealed to us as sovereign.  God is holy.  God is mighty.  God is the creator, sustainer, redeemer.  God is not like us.  God does not conform to our ideas or ideals.  God is the Great I Am.  The source of all Being, wisdom, love and intelligence.  When we worship, we are to worship that God, for no other reason than to adore and honor God for who God is, not just for what God has done for us or how worship makes us feel.  
That's why God has a problem with the worship that has been taking place in Isaiah chapter 1.  The Jews were really good at worship.  There was all kind of pomp and circumstance.  It was well planned and executed decently and in good order.  It looked good and sounded good and everyone enjoyed it.  But none of it came from the heart.  God, as God always does, looked at the people's hearts, and there was no worship there.  And Isaiah says it made God sick.  How would you like to have that said about how God views your worship?
God calls out the people for having the audacity to think they can worship while the poor in their midst are suffering; the widows and orphans are forgotten; the immigrants among them are abused.  God's critique of Israel is rooted in God's love for and call of this people.  God chose this people to be a light to the nations, to live differently than everybody else, to show the world that violence cannot solve violence; that the only way to end violence is through peace and love and forgiveness of one's enemies.  God freed this people from slavery to demonstrate to the world that God's kingdom is a realm of liberation from every kind of entrap-ment and enslavement—the slavery of poverty, addiction, lack of education or adequate medical care, of fractured relationships, of racism, pride and greed.  God had set this people free, in a dramatic, unforgettable rescue, no less, yet here they are oppressing others, and because God loves them, God cannot allow them to continue to act this way, cannot allow them to believe that going through the motions of worship will wallpaper over their tolerance and perpetuation of injustice.
The Hebrews need a fresh start.  They need fresh worship, and that fresh, genuine worship has to start by coming clean about what's really going on in their hearts and lives.  Isaiah names two steps the Israelites need to take in order to get clean:  washing and ceasing.  The 'washing' step is synonymous with the removal of evil deeds, that is, the injustice, abuse of power, and exploitation within the nation, church, and families must be faced and remedied.  The 'ceasing' step is the equivalent of "learning to do good," learning what is just and merciful, right and righteous.  Acting in these ways puts us in right relationship with one another and with God, but it doesn't come naturally.  Learning to do good requires self-examination, confession, repentance, and ultimately, transformation of the heart.
Fresh worship is both a cause and a result of being in right relationship with God.  It is fresh, genuine worship that reminds us who we are speaking to and dealing with when we talk about 'God.'  It is only when we have the God of the universe, the God of salvation, the God of all history, past, present and future, including our own personal histories—when we have that God in mind, not only will our hearts be transformed, but so will our worship, because men and women, if that's not who we're worshiping here this morning, we're all wasting our time.
Worship, like prayer, is often easier to talk about than to actually do.  So, I'm going to conclude the sermon a little differently than normal.  I'm going to ask you to put yourself in a place, in a posture that best helps you worship.   You can close your eyes, bow your head, raise your hands, kneel where you are or here at the front steps—whatever puts you in a posture of being fully in God's presence.  I am going to read some verses from Psalms 95 and 96 and as I do so, I invite you to worship.  Look at God.  Honor God.  Reflect on God's character.  Open yourself to God's presence.  Love God.  Worship with your whole heart and soul.  
O come, let us sing to the Lord;
let us make a joyful noise to the rock of our salvation!
Let us come into his presence with thanksgiving;
let us make a joyful noise to the Lord with songs of praise!
For the Lord is a great God, and a great King above all gods.
In his hand are the depths of the earth; the heights of the mountains are his also.
The sea is his, for he made it, and the dry land, which his hands have formed. 
O come, let us worship and bow down, 
Let us kneel before the Lord, our Maker!
For he is our God, and we are the people of his pasture, and the sheep of his hand.
O sing to the Lord a new song; sing to the Lord, all the earth.
Sing to the Lord, bless God's name; tell of God's salvation from day to day.
Declare God's glory among the nations, God's marvelous works among all the peoples.
For great is the Lord, and greatly to be praised;
The Lord is to be revered above all gods.  
For all the gods of the peoples are idols, but the Lord made the heavens.
Honor and majesty are before him; strength and beauty are in his sanctuary.
Let the heavens be glad, and let the earth rejoice;
let the sea roar, and all that fills it;
let the field exult, and everything in it.
Then shall all the trees of the forest sing for joy before the Lord;
for he is coming, for the Lord is coming to judge the earth.
God will judge the world with righteousness and the people with his truth.
Psalm 95:1-7a and 96:1-6, 11-13
Thanks be to God who alone is worthy of our worship and praise.  Amen.