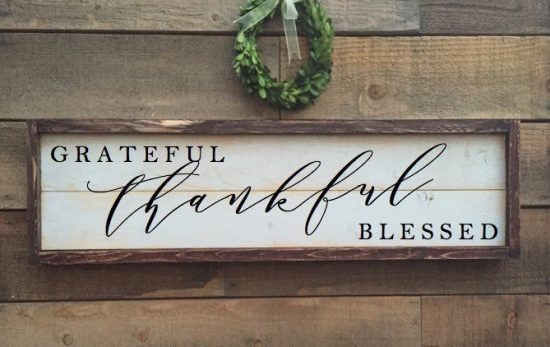 22 Nov

Grateful~Thankful~Blessed

I will give thanks to the Lord with my whole heart;

I will tell of all your wonderful deeds.

I will be glad and exult in you;

I will sing praise to your name, O Lord Most High.

Psalm 9:1-2

One of the most common answers to the question about Thanksgiving is "family."  We are thankful for the people who share our lives, day in and day out; the people with whom we make a home; the people who raised us and cared for us.  Some of this family is related to us by blood and some of it is chosen. I recently was invited to a "Friendsgiving," and I was struck by how rich our lives are because of the friends who become like family to us.  

As you think about your blessings this week, I encourage you to think a bit more deeply than usual.  When was the last time you thought about what a gift your five senses are—and said "thank you" for them?  What about creation? Take a few minutes to immerse yourself in starlight or get up close to a tree to study its leaves or bark.  Put down your phone and give someone your full attention. Take notice of the people who serve you this week. When was the last time you said a prayer of thanks for the crew that picks up your garbage?  I don't know about you, but I am exceedingly grateful for municipal garbage disposal, so that I don't have to dig a hole in my back yard for my trash.

Food, of course, is hugely important during the holidays and while it's easy enough to say, "thank you" for the bounty on a Thanksgiving dinner table, are you really paying attention to what you're eating?  From pumpkins to pomegranates, yeast rolls to yams, brownies to brussels sprouts, the tastes, textures, smells, and colors of the food on our tables are dizzying in their variety and abundance. Taste and see that the Lord is good, the Psalmist declares.  Maybe we should take that more literally than we are prone to do.

Lest we forget, there are many people for whom Thanksgiving will be one more day of uncertainty, loneliness, or hardship.  As we give thanks for our blessings, our gratitude is meant to move us to have compassion for others and to respond to the suffering that surrounds us.  With full and grateful hearts, let us give thanks to God for God's many gifts and then share those gifts with those most in need.

Happy Thanksgiving!