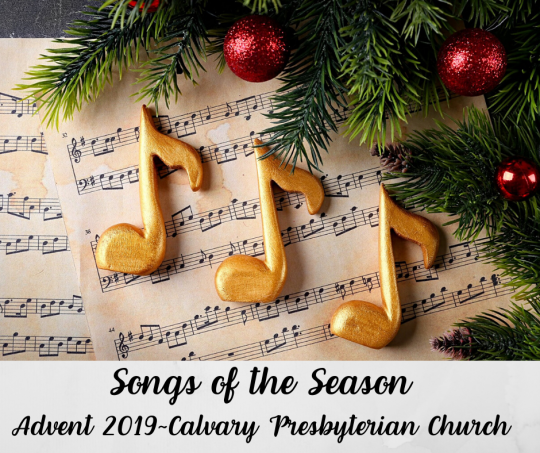 04 Dec

Songs of the Season:  Zechariah's Benedictus
Songs of the Season:  Zechariah's Benedictus
Luke 1:68-79
December 1, 2019
Michelle Fincher
Calvary Presbyterian Church
"All of humanity's problems stem from [their] inability to sit quietly in a room alone."  That is a quote from the famous mathematician and theologian Blaise Pascal in the 17th century—long before the smartphone, an invention that ensures that people today are rarely quiet or alone.  If Pascal is right, that our problems are due to an inability to be alone, then we are in trouble. Big trouble.
That's also the conclusion of Cal Newport, author of the 2019 New York Times bestselling book Digital Minimalism:  Choosing a Focused Life in a Noisy World.  In his book, Newton writes that our culture is paying a high price for what he calls our "compulsive connectivity."  Our constant snapping, chatting, tweeting, posting, liking and swiping have become, in his words, "a nervous twitch that shatters uninterrupted time into shards too small to support the presence necessary for an intentional life."  Put another way, we can't seem to tolerate solitude and silence anymore, and it is killing us.
Newport points out that our "solitude deprivation" is one of the significant causes of much of our cultural anxiety, angst, and rising rates of depression and suicide.  It is a state in which you "spend close to zero time alone with your own thoughts and free from input from other minds."
This constant stimulation ignores the fact that we aren't wired for compulsive connectivity.  Our brains need time to rest, reflect, and process. Solitude and silence allow our brains the space they need to clarify hard problems, regulate our emotions, and strengthen relationships.
Newport's solution to the problem is to try some digital fasting, and he's not alone in this idea.  A couple of months ago, The Washington Post featured an interview of Tiffany Shlain who founded the Webby Awards which honor the best of the Internet.  Shlain identifies herself as a cultural Jew, and one of her most important practices is what she calls a "technology shabbat" or sabbath.  For the past decade, she and her husband and two children have unplugged their devices every Friday evening for a full 24 hours. I'd like to suggest that Advent is a perfect time to try something like this.
The Gospel writer Luke begins his Advent story with an example of how imposed silence not only allows for deeper reflection, but also for deeper faith, an opportunity to listen to God and discern what God is up to in the world and in our lives.  And out of the Advent silence comes a song for the season.
Zechariah was an old priest who traveled to Jerusalem from his home several miles outside the city when it was time for his priestly division to perform the temple liturgy.  His wife, Elizabeth, had never been able to have children, which in those days was considered to be a curse from God. But Luke tells us that Zechariah and Elizabeth were "righteous before God, living blamelessly according to all the commandments of the Lord."
Zechariah likely wasn't thinking about any of this, however, when it was his turn to go into the Holy of Holies to burn incense on the altar.  If he had been a 21st century person, he might well have snapped a selfie before walking into the Temple, posted it on Instagram, and maybe waited for a few of his fellow priests to "like" what he was about to do.  After all, with so many priests in and around Jerusalem, this might be his once-in-a-lifetime opportunity to burn the incense. Better capture the moment!
And what a moment it would be.  In the midst of an ordinary day of worship, God shows up and speaks to Zechariah through the angelic messenger Gabriel.  Gabriel begins his important announcement by saying, "Do not be afraid, Zechariah. Your prayer has been heard." The old priest and his wife had long been praying for a son, even as they prayed for the Messiah to come.  Now their prayer was going to be answered. The angel tells Zechariah that he and Elizabeth will have a son, who will grow up in the mold of the prophet Elijah. It will be his job to prepare the way for God's Messiah.  
When Zechariah gets the news, from an angel, in the temple, that his prayers have been answered, and that the thing he has hoped for his whole life is about to become a reality, he responds not with faith, but with anxiety and doubt.  Like many of us in a distracted world, the old priest wants some assurance, a sign that things are going to be okay. Sadly, for far too many people, those signs now take the form of the number of "likes" and positive comments of approval they get from others.  Perhaps it's not so hard to understand. Somehow, even with an angel standing in front of him, Zechariah doesn't believe that he has been approved by the only one whose opinion actually matters: God.
The sign the angel offers is the one that Zechariah and many of us need if we're going to really discern what God is up to.  It is the sign of silence. Because of his unbelief, Zechariah will not be able to speak until the baby, who is to be named John, is born.
Part of the temple ritual was that after the priest lit the incense and came out of the Holy of Holies, he was supposed to give a blessing to the people.  Zechariah comes out to the waiting crowd, opens his mouth to speak, and…nothing.
Imagine the scene as Zechariah tries to invent some sort of sign language to tell them he's seen an angel.  It would be like a tourist from the United States going to Malaysia and trying to explain why she can't talk.  Zechariah's silent frustration and fear no doubt turn into joy when he returns home to hear Elizabeth report that she is expecting a child.  While Zechariah remains mute, she exclaims with joy, "This is what the Lord has done for me when he looked favorably on me and took away the disgrace I have endured among my people."
Remember that in first-century Israel, God has been silent for a long time—over 400 years.  After the astonishing liberation from Egypt and their arrival as a nation at the Promised Land, Israel had stopped listening to God.  So, God stopped speaking in pillars of cloud and fire and in smoke on mountaintops, and instead, spoke through the voices of the prophets.  Israel managed to silence many of those prophets by ignoring them or killing them, which resulted in the Hebrews being sent into exile where the silence continued.
But the silence didn't mean God wasn't with them.  It only meant that the people needed to lean in in order to listen to God.  Silence has a way of sharpening our focus, tuning our hearing, helping us go deeper within ourselves and in our awareness of the world around us.  It is only when we are silent, when we stop pouring out and inputting words, that we can truly hear what God is saying to us.
Zechariah was silent for nine months.  Stop and really try to imagine that. Nine months of simply listening, nine months of pondering the angel's message, nine months of discerning what God might be doing through the birth of this long-awaited son and even longer-awaited Messiah.
The silence was both a sign and a gift—a chance to hear the depth of God's saving mission that was coming to reality through his own improbable family.  It's little wonder, then, that when Zechariah finally speaks, holding his son in his arms, his first words are a song of praise. After all, he'd had nine months of silence—plenty of time to compose one of the first Christmas carols.
"Blessed be the Lord God of Israel for he has looked favorably upon his people and redeemed them."  Blessed. Benedictus. The first song of the Advent season. A song of praise and promise.
Don't miss the fact that as Zechariah's silence was broken, so was the silence of God, who would now speak his ultimate Word in the form of a Savior.  After a long time of silence and waiting, God was going to have the last word.  
Zechariah looks at the child in his arms, and sings, "And you, child, will be called the prophet of the Most High; for you will go before the Lord to prepare his way, to give knowledge of salvation to this people by the forgiveness of their sins.  By the tender mercy of our God, the dawn from on high will break upon us, to give light to those who sit in darkness and in the shadow of death, to guide our feet in the way of peace."
This baby who will grow up to be John the Baptist, will become a prophet in the likeness of Elijah, a throwback to the Old Testament and a herald of the New Testament.  Like a watchman, he will announce the breaking of the new day, a new age, a light that pushes back the darkness of sin and death and illumines the way of peace. The Messiah, Jesus, will lead his people on that way, as the world's true King leading his people to the ultimate Kingdom.
Zechariah's Benedictus is a song of praise and promise, but it comes only after a time of silence.  That's one of the gifts Advent offers us, because Advent is a time of waiting silently, a time to slow down, be observant, listen and then, to expect the unexpected.  It's quite possible that in the silence of Advent, you might discover a song. You might even recover the song you used to sing.  
It's tempting to buy into the other narrative that pulls us in different directions this time of year—the narrative that says we're too busy to be quiet, making sure all the details are just right for Christmas, breaking down the doors of stores at midnight, clicking endlessly through online sales, and running through a plethora of holiday events and expectations.  We wind up exhausted, anxious, nervous, even angry. But we aren't meant to be that way.
Zechariah was struck speechless for nine months by an encounter with an angel.  Perhaps we need to once again be struck speechless by the power of this story; to be silent and listen for what this God, who came in person in Jesus and continues to work through the Holy Spirit, is doing in our world and in our lives.
To do that, we need to create space.  Consider some digital fasting this Advent.  Lay aside the deafening distractions and make time to simply "be" in God's presence.  Who knows what kind of good news and blessing you might be singing after the silence?  
Glory to God in the Highest.  Amen.