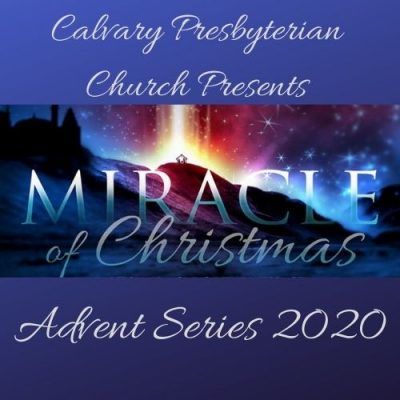 29 Nov

Advent Week 1: The Miracle of the Moment
The Miracle of the Moment
Jeremiah 33:14-16 and John 1:19-27
November 29, 2020
Michelle Fincher
Calvary Presbyterian Church
Join us for our first worship service during the season of Advent at 10:00 a.m. Click here for worship live from the Calvary sanctuary via YouTube. Click here for the adult worship guide and click here for the children's pages.
Once in the pulpit, set stopwatch to 60 seconds and remain silent until it has passed…..
Exactly one minute has passed.  I know that because the stopwatch on my phone tells me how many seconds have elapsed.  Isn't it amazing how long one minute of silence seems, but how short one minute seems when you are doing something you really enjoy?
As we launch the Advent season today, I want us to consider not only the significance of the one specific moment in time of Jesus' birth but also the strategic nature of that moment, the timing of God's incarnation.
Have you ever stopped to consider how important timing is to everything that exists?  Do you plant tomato plants in November?  Or paint the outside of your house in January?  Do you pull on your ice skates and head for the pond to go skating in August?  No?  Why not?  Because it's not the right time.  There is a right time for these kinds of activities.  I think we might all agree that December is not the best time to start a diet, right?
Think about the importance of timing in sports.  If the timing is off, the quarterback won't connect with his wide receiver for a pass.  If the timing is off a basketball player will arrive at the spot before the ball or after the ball has already sailed past her.  And the same is true for our daily lives.  One minute can make the difference between a missed flight and a day full of travel headaches or a day of on-time connections.  The parent of a preschooler certainly knows the value of a minute.  Turn your head for even a few seconds, and a three-year old can be out of sight and into all kinds of trouble, from the Instagram-worthy funny video to the truly catastrophic.
Does one minute really make that much difference?  Just ask those who made it out of the Twin Towers minutes before they collapsed.  One minute, one sixty-second interval of time, placed in just the right location can make all the difference in the world.
The Apostle Paul, in his letter to the Galatians, said, "When the fullness of time had come, God sent his Son, born of a woman, born under the law, in order to redeem those who were under the law, so that we might receive adoption as children."  When the fullness of time had come.  That's biblical language meaning that at just the right moment, with perfect timing, God sent Jesus.  Let's call that the miracle of the moment.
One of my favorite Christmas movies is the old classic, "Miracle on 34th Street."  It is a wonderful, magical story about an old man named Kris Kringle who believes he is Santa Claus and wants others to believe in him as well.  Early in the movie, Kris just happens to be in the right place at the right time to replace an inebriated Santa for the all-important Macy's Thanksgiving Day parade.  Was it a coincidence or chance that Kris showed up when he did?  That is the miracle of the moment.  But just as Mrs. Walker and countless others in the film failed to recognize the moment for what it truly was, so we too often miss the miracle of the moment in our lives.  They are not always as easy to recognize as we might like.
That was certainly the case when Jesus was born.  Most people completely missed the significance of his birth at the time it occurred.  People were much too busy to pay any attention to a young, peasant girl giving birth to her first child in a stable in Bethlehem.
At just the right time in history Jesus was born.  The coming of Christ into the world was not a matter of chance or coincidence.  His coming was part of God's divine plan established before the foundation of the world.  Pastor and theologian Rev. Dr. Warren Wiersbe, in his book Be Free says, "Historians tell us that the Roman world was in great expectation, waiting for a deliverer, at the time Jesus was born.  The old religions were dying.  The old philosophies were empty and powerless to change [people's] lives.  Strange new mystery religions were invading the empire.  Religious bankruptcy and spiritual hunger were everywhere.  God was preparing the world for the arrival of his Son."
Think about the implications of that and what it says about this period of time in our own lives.  From an historical perspective, the Roman Empire had helped prepare the world for the birth of Jesus.  Some of that was because of positive developments the Romans brought.  They had constructed roads that connected cities within the empire, making travel easier.  The world was at peace under Roman rule.  Roman laws protected its citizenry and Roman soldiers enforced them.  Latin and Greek were known across the empire making communication more accessible.  
But for all their advancements, the Roman Empire was also full of violence and brutality.  Not everyone benefited from Rome's achievements and the spoils of modernization were not equally shared.  Disillusionment and disenfranchisement were everywhere.  Seen as illegitimate interlopers, in many places the Romans were hated as well as feared.  Their occupation fomented among the poor and marginalized who were longing for a savior, someone who would redeem them and free them from oppression.  It was as if the world was in a pregnant pause, waiting for what would happen next.
Perhaps it takes a global pandemic to help us recover a sense of that kind of anticipation.  In a typical year, Advent is a season of relentless activity and bustle.  In our culture especially, the month leading up to Christmas is often associated with a fast-paced sense of hurry.  We've even got a name for it, the "holiday rush", and it's more often accompanied by exhaustion than a sense of exhilarated expectation.
It's easy to find ourselves simply going through the motions, enduring the Advent season without ever truly experiencing Christmas.  Even though the busyness may be less acute this year because of the limitations placed on us by the novel coronavirus, in many cases our usual frenetic activity has been replaced by a deep sense of isolation and loneliness.  With our normal holiday rituals upended, especially our gatherings with family and friends, we are struggling to find the joy and hope of Advent.  Like those living in the first century, we need nothing short of a miracle this holiday season.  And the good news is that God comes to us at just the right time with just what we need for this moment.
Scripture reminds us of this very thing using an agricultural metaphor that would have spoken powerfully to the ancient Israelites.  The psalmist declares, "All eyes look to you, and you give them their food at the proper time" (145:15).  The book of Deuteronomy adds: "I will provide rain for your land in the proper time, the autumn and spring rains, and you will harvest your grain, new wine and oil" (11:14).  In other words, God knows exactly what you are going through and exactly what you need.  At just the right moment, God will provide for you.  God's timing is always perfect.
We often struggle with the relationship between God, time, and our lives.  In contemporary Western thought, time is linear.  Our lives are dictated by the clock and the calendar.  This understanding of time as chronological or sequential is called chronos time.  But there is another kind of time which the Greeks called Kairos.  Kairos time is the proper or opportune time for action.  In the context of scripture, it denotes a special, significantly critical point in human history when God's will and purposes are carried out.
Chronos time is quantitative, measured in days and weeks and years.  Kairos time is qualitative and permanent or eternal in nature, which is why God, taking on human flesh and coming to dwell among human beings in the form of Jesus is the ultimate Kairos moment.  At precisely the right time, at the most opportune moment, God broke into human history, interrupting our chronos time with an experience of the eternal in order to accomplish God's plan for humanity. 
Part of the challenge and the opportunity of Advent is to revisit the "miracle of the moment" of God's incarnation and then realize that God's Kairos moments did not end with Jesus' birth.  God continues to come to us in our own lives at exactly the right time today.  Consider this:  when do you need to have an experience of God, to hear God's voice, or to know God's presence?  When do you need a miracle?  Usually it is when you have no more options and no more resources, when you are utterly helpless and willing to humble yourself, that you are in a position to receive a miracle.  
It seems we are always waiting for just the right time to do something.  The right time to change jobs or move or buy a house or retire.  The right time to deal with a bad habit or to start a good one.  Some people wait and wait, thinking there is a right time to make a commitment to a closer walk of faith with God.  Men and women, that time is now.  As Paul put it, "I heard you in an acceptable time, and I helped you in the day of salvation.  Look, now is the acceptable time; now is the day of salvation (2 Corinthians 6:2).  
Jesus said it this way: "The time is fulfilled, and the kingdom of God has come near.  Repent and believe the good news" (Mark 1:15).  Advent is a kairos moment, the perfect time to believe the good news; to renew your commitment to God; to recommit to your marriage, your family, your friends and neighbors; the right time to invest your life in God's kingdom as it's being lived out in and through this community of faith; the right time to receive the joy of God's salvation.  That is the miracle of Christmas and it is available to you this very moment.
Glory to God in the highest.  Amen.