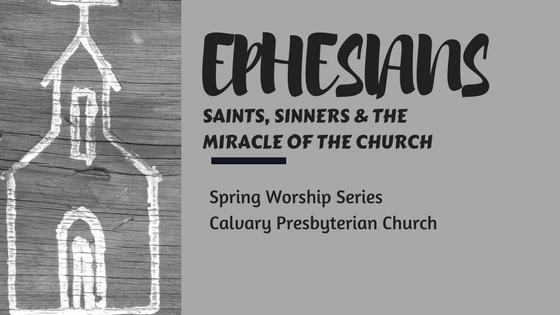 11 May

What's So Amazing About Grace?
What's So Amazing About Grace?
Ephesians 2:1-10
May 6, 2018
Michelle Fincher
Calvary Presbyterian Church
Imagine that you out tomorrow—perhaps at the grocery store or at work or the gym or picking up your dry cleaning—somewhere you routinely go that requires you to be in your car.  You return to your car, load your groceries or briefcase or gym bag or whatever and are about to get in the driver's seat. Have you got a mental picture of yourself? The next thing you know, a stranger is standing next to you demanding your car keys.  Because he has a gun, you hand over your keys, and in that instant, you have a chance to say one thing to him. So, what would you say? [Get answers] Now hold that thought….
When we left Paul last week, he was interceding for the saints at Ephesus.  Given how abruptly Paul changes gear at the beginning of chapter two, we couldn't fault his friends if they had preferred that he just keep on praying.  Instead, from eloquent, soaring prayer, Paul suddenly, without warning says, "you were dead." "You were dead" but now you are "alive together in Christ," meaning  God raised Jesus from the dead; he also raises us up with him. Resurrection defines Jesus' life; resurrection also defines our lives. We were sin-dead; now we are resurrection-alive.
Paul's language is black and white, death and life.  Resurrection life is not some far off, idyllic hope for the future.  We are not to be spectators of the resurrection; we are meant to embrace and embody it.  It is the life we live here and now. Resurrection life is totally different from what we are used to, as different as death is from life.  Here everything and everyone is born anew or has the potential of being born anew: "the whole creation…groaning in labor pains." (Rom 8:22) Resurrection is not something we add on to everything we are already doing, everything that we are already accustomed to.  Rather it makes alive what has been "dead through…trespasses and sin." (2:1) This is not a life, a perspective that we are familiar with.  We require reorientation to resurrection life, so that we can live into the "full stature of Christ." (4:13) Paul begins our reorientation with the word "grace," and as we'll see, it's a word he uses a lot.
The air we breathe and the atmosphere we inhabit as followers of Jesus is grace.  "By grace you have been saved." There are no other options. It's grace or nothing.  Grace is an invisible reality that permeates all that we are, think, speak and do. But we are not used to living by invisibles.  We have work to do, things to learn, children to raise, people to help, traffic to negotiate, meetings to attend, meals to prepare.  Life depends on our activity, our effort.
But grace is different.  Grace originates in an act of God that is absolutely without precedent, the generous, sacrificial self-giving of Jesus that makes it possible for us to participate and mature in resurrection, kingdom life.  Grace is not what we do; it's what we participate in. And our participation begins with humble surrender in which we enter into and give ourselves up to that which is previous to us, the presence and action of God in Christ that is other than us.  Surrender and yielding in this way does not come naturally or easily to us. We are conditioned to work for what we get, to earn our keep, to "deserve" what we receive. By contrast, faith in Christ is an act of abandoning the shores of self, where we think we know where we stand and where, if we just try hard enough, we can be in control.  Faith in Christ is a plunge into grace. That's why it's something we must learn.
Presbyterian minister and author Eugene Petersen laments that in his fifty years of being a pastor, his most difficult task has been developing a sense within his congregation of the "soul-transforming implications of grace—a comprehend-sive, foundational reorientation from living anxiously by my wits and muscle to living effortlessly in the world of God's active presence."  He goes on to say, "The prevailing North American culture….is, to all intents and purposes, a context of persistent denial of grace." (Practice Resurrection, p. 96)
While Paul affirms the absolute giftedness of grace, the fact that we cannot do anything to earn or deserve it, he also acknowledges that grace has legs and arms and hands and feet.  Living in the effortless, grace-filled presence of God does not negate feeding the poor, rescuing the abused, and comforting the grieving. These actions are part of how we live out our resurrection life.
Paul's choice of words makes it clear that work and the workplace are not antithetical to grace. Grace is absolutely and insistently at home in work and workplace. Paul emphasizes this point when he includes the term "good works" in the same sentence in which he talks about grace: not only are we saved by grace, we are also "created in Christ Jesus for good works, which God prepared beforehand to be our way of life." (2:10) Here's the difference between what Paul means by "good works" and what we are conditioned to think of:  fundamentally, work is not what we do. We are the work that God does. "We are what God has made. We are God's workmanship."
This does not mean that grace displaces work.  Resurrection Christians are not given a pass from punching the clock, putting in our 40-hour workweeks or our 40 years until retirement.  So what changes when Paul sets "work" as a companion word alongside "grace" if tomorrow morning we'll get up to go to the same job, with the same responsibilities, the same boss?  In part it is that we are no longer working for the government or Boeing or the hospital or Wal-Mart. Wherever we are and whatever we are doing, we are God's work and we are participating in God's work.  God is working at the military base—through you. God is teaching in the high school—through you. God is ferrying people from one location to another—through you. It's all God's work, and you are participating in it.
One of the first things we learn about God is that God works.  In Genesis 1 God goes to work making the world and all that is in it and then invites us into his work, giving us a job to do that is commensurate with God's creative work.  That means that all our work takes place in God's workplace. All our work is intended to be our active participation in God's work. From Genesis we also learn that the work that God does is pure gift.  Light—what a gift. Sky—an incredible gift. Earth, sea, plants and trees—beautiful, sustaining gifts. From God's work we learn that it is the nature of work to provide a container for a gift. The reason work is called good is that it is the means for delivering a gift.  
To call something a gift does not tell us what it is but how it comes to us.  "Gift" says that it comes to us freely. It arrives neither out of necessity nor on demand.  Instead, it arrives in the spirit of generosity, with no strings attached. When we pay attention to the workweek of creation, we realize that we live in a world of sheer gift, that we ourselves are sheer gift, and that whatever we do replicates and continues to express and give form to the basic God-giftedness that is fundamental to our lives and our cosmos.  The most common term in our biblical languages for this underlying and comprehensive God-giftedness is "grace."
One of the most demanding aspects of grace—and of being saints as we talked about last week—is that what we freely receive we are also called to freely share which brings me back to the question of car-jacking that we started with.  A month ago, a nun was carjacked at gunpoint in Northeast D.C. The crime occurred a little before 7:00 in the evening in the Brookland neighborhood. The nun was wearing her habit at the time, when the robber approached her and demanded that she hand over her keys.  She did as he instructed, and he sped away in her car, but not before she spoke to him. Her words to the 20-year old, according to court documents, were "May God bless you." (The Washington Post, April 11, 2018, p. B3)
That's grace.  That's seeing another human being at one of their lowest moments and refusing to let that moment define him.  That's seeing another human being as the workmanship of God, as someone in whom God's love is still at work. I am fascinated by the nun's response, but I'm most impressed by what has to happen inside a person's heart to make that kind of grace their default response.  That is the response of someone whose "people eyes" are so developed, so mature that even when humans are behaving badly, she chooses to see them through the lens of God's love. I have to admit that I doubt my response would have been as grace-filled or loving as the nun's was—and that means I still have a ways to go to grow up in Christ, to grasp so profoundly the grace of God at work in me that my only thought in a similar situation would be to affirm the work of God's grace in the other person's life.  I'm grateful to this nun to show me how far I have to go, and I'm grateful to Jesus for his infinite patience in helping me grow up. Amen.