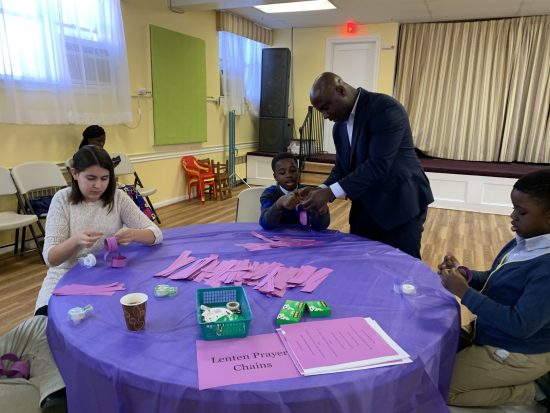 24 Feb

Glimpses of Normalcy

It seems like we were just gaining traction on our efforts to equip parents and grandparents to grow faith at home when, like everything, the pandemic brought those efforts to a screeching halt. The Calvary family was beginning to look forward to our intergenerational workshops, and the Lenten workshop right before everything shut down was especially….special. We had prepared Lenten prayer journals, a special table cloth for Ash Wednesday, and purple Lenten activity rings to help families put some concrete plans in place to make the most of the season.

As we enter another church season, I still find myself reeling at times with the whiplash-realization of how drastically life has changed since we last gathered in the fellowship hall, taping purple rings together, painting black crosses on paper, making plans for a special Lenten season…blissfully unaware of what was about to unfold. But yesterday's warmth brought more than a whisper-promise of spring, because (for me) it ushered in the reminder that these two years are also a season. And despite our calendars, seasons don't just begin and end – there is a gradual change, with many slip-ups along the way. (I mean, come on, it was 73 degrees yesterday!)

And so…it's time to again embrace our churchwide promise to nurture the faith of the children in our Calvary family (and beyond!) We believe that parents & grandparents are the "experts" in the faith development of their children, and the home is the best sanctuary for worship, prayer, and service to occur. We delight in fulfilling our promise to support families who raise their children in our community of faith. And research shows that one of the best ways to do that is to put resources in  parents' hands to help them weave faith into the folds and creases of their busy lives.

One of the four "keys" for growing faith at home involves taking a look at the rituals and traditions your family observes. Church seasons and holidays are rich with opportunities for children to grow in faith because they learn through the multi-sensory events each season brings. Every church season ushers in different colors, readings, songs, and traditions that are repeated year after year. As children grow, they have "anchors" from prior years that allow them to process, remember, and anticipate the holidays that we celebrate. And when families observe the church seasons at home, children have a much deeper understanding of faith in action.

For parents, the beauty of liturgical seasons like Advent and Lent lies in the fact that they are finite. It you have struggled to develop a consistent habit of reading the Bible with your children, or being more deliberate about family meals or prayer or serving, taking a "deep dive" during Advent and Lent is a great place to begin.

Lent is a more abstract concept for children to understand. Advent offers angels, sheep, stars, journeys fraught with danger, and a king born in a barn, and the absence of these concrete, relatable concepts makes the Lenten season more difficult to comprehend. When families observe Lent at home, children have a deeper understanding of the meaning behind the stories. Below are a few ways to "practice" faith at home with your children as we journey to the cross together:
"Remember" the teachings of Jesus as a family: Read the stories of how how Jesus loved, prayed, served, healed, and forgave. And for more concrete tips on reading the Bible with kids, click here!
Adopt a family service project for the six weeks of Lent. Talk about the way Jesus modeled loving and serving others.
The longer days of spring, and the explosion of color in nature offer wonderful parallels to the Easter story. Take a walk outside and talk about the wonders of God's creation.
Whether you have children or grandchildren of your own, special nieces and nephews, or surrogate littles whom you love, this is the perfect time to renew the promises we make to nurture the faith of the youngest among us. The church is the last place in our modern world where all generations are regularly together. What a privilege to grow in faith together, and what joy to have a glimpse of a new season. May it be so.
Amen and amen.
Jenny Cudahy