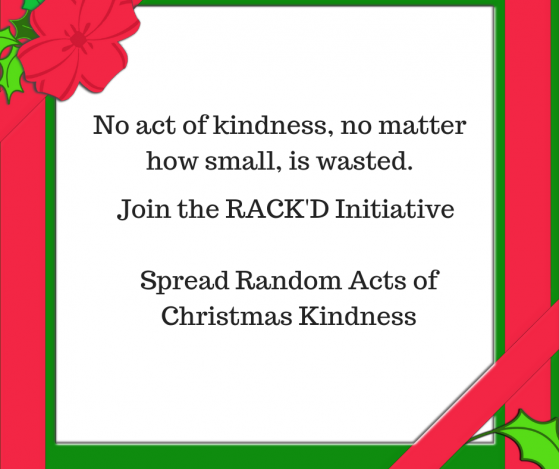 26 Nov

Random Acts of Christmas Kindness

One of my favorite things about the holidays is the traditions that we carry forward from one year to the next.  For example, in my family, there is the tradition—not to be messed with—that the first music we listen to as we put up decorations is Mariah Carey's Merry Christmas CD.  Yes, I know it is nearly 25 years old, but it is still the Fincher family "gold standard" of Christmas music.  After Mariah, we play NSync's Home for Christmas album.  James Taylor, Michael Buble, Pentatonix, Sarah Brightman, Straight No Chaser, Chris Tomlin, Celine Dion, Josh Groban and all the rest get played afterwards in any order, but the sequence of those first two is set in stone.  

We have traditions around food (especially the cookies), ornaments for the tree, what we do on Christmas Eve, and what goes in the Christmas stockings.  We love these traditions for their familiarity, the memories they recall, the anticipation they evoke, the joy associated with the people with whom we share them.  Christmas traditions are a good thing.

But we also make room to experiment and try new things during the holidays—new recipes, new events, new decorations.  Some of these new things prove to have staying power and end up becoming beloved traditions. Some are "one and done."   At Calvary we experimented two years ago with what we called an "Advent Workshop," and it was such a hit, it has all the markings of a tradition that will last a long time.   Our "Third Annual Advent Workshop" will occur on Sunday, December 8, 2019 after worship when the entire congregation will gather in the church hall to make Advent wreaths, ice (and eat!) Christmas cookies, assemble a gingerbread nativity, and craft ornaments to take home.  Simultaneously, upstairs the "hanging of the greens" will take place as we "deck the halls" and the sanctuary for Advent. It is sure to be a fun, boisterous and sugary time for all ages!

This Sunday we will also be launching our second year of the the RACK'D initiative:  Random Acts of Christmas Kindness.  The whole idea is to spread kindness throughout the month of December.  For example, could you:
Bake and deliver cookies to an unsuspecting neighbor?

Purchase coffee for the customer behind you in line?

Take hot cocoa to the bell ringers in your local shopping center?

Make cards and deliver goodies to your closest fire or police station?

Donate your vacation or sick days to someone struggling with an illness or family situation at work?

Send a thank note to someone who has meant a lot to you?

Leave a larger-than-expected tip for someone who serves you?

Deliver dog treats to your local animal shelter?

Bring in the garbage cans or rake leaves for a neighbor?
Any and every age can participate in Random Acts of Christmas Kindness.  If you have children or grandchildren, put your heads together to plan your strategy for "Racking" your neighbors.  The possibilities are limitless! Just be on the alert for opportunities to spread kindness to strangers and those least expecting it.
We'd love to share your ideas and your experiences on the Calvary Facebook page.  Send photos or stories about what happens when you RACK folks to Jenny at jdcudahy@gmail.com.  
This is one new tradition I can't wait to see in action!!
Advent Blessings,
Michelle
Click here for details on the "RACK'D" initiative.