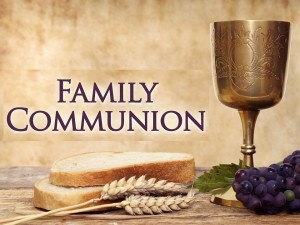 30 Jul

Deepening Your Communion Experience

This Sunday we will be celebrating Communion. Worshiping with children at home must  seem like an olympic sport, but just remember that when it comes to nurturing faith, there is a saying that "faith is caught more than it is taught," which is a fancy way of saying that children learn and grow by watching YOU. If you take some simple steps to prepare for a Communion Sunday, you can deepen your own experience of communion while helping your children to understand that communion is more than a really small snack.

Calvary has an "Open Table" philosophy of Communion – parents and children can decide together when the children are ready. 

Below are some easy ways to help children understand the context around the Lord's Table – these can be done all at once, over the course week, or even over a couple of months. (It's a process, an one that they grow into.)

Connect the "meals"from scripture that led to the Last Supper, which is now the "Lord's Supper:
Read the story of Moses leading the Israelites out of Egypt, lingering on the last night before they left Egypt. Talk about their "last meal"at home in Egypt – the meal of unleavened bread (because they had to leave quickly), and, if they are old enough, the sacrifice of the Lamb.  This was the meal that became the Passover.

Read the story of Jesus and his Disciples celebrating the Passover – connect this story to the Old Testament story (above) and explain that Jesus and his Disciples had gathered to celebrate this holiday that they had been observing for hundreds of years, when Jesus did something totally new and different by breaking the bread and pouring the wine, prophesying his death on the cross.
Read the Lord's Prayer with your children, and practice saying it together. The Jesus Storybook Bible has a beautiful paraphrase of The Lord's Prayer  – you can even find it here.
Walk your children through what happens during a Communion celebration, explaining that Communion is a sacrament – a sacred moment to honor and remember what God has done. Explain the logistics behind how your church actually takes Communion – what they are to say, how they are to receive the elements.
When you are in the service together, lean over and whisper as different parts are being read – point out the stories they already know. Over time children will develop an understanding of parts of the sacrament and can participate ever more fully in the sacrament as a whole. 
And, as always, let us know how we can support you on your journey to grow faith at home.
Click here for more ideas on nurturing the faith of your children.